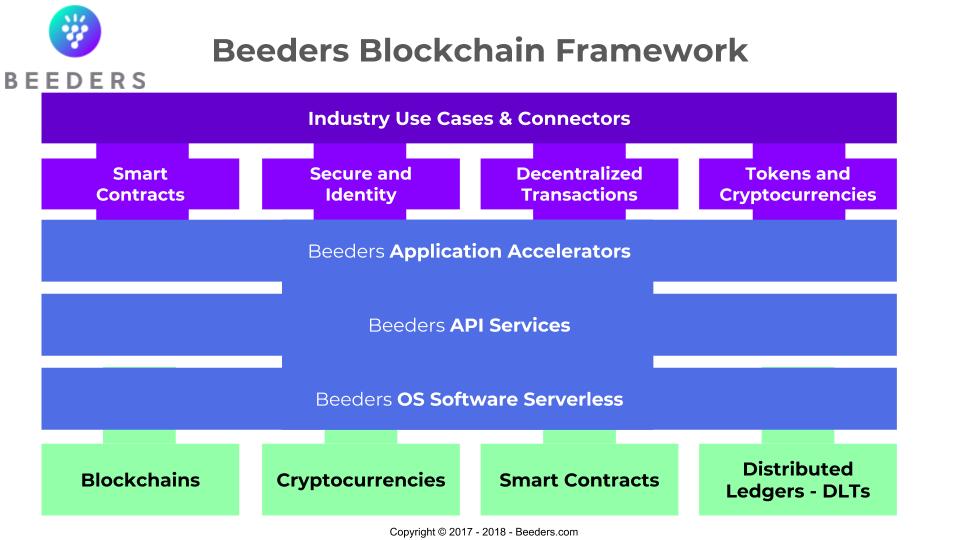 Beeders Blockchain Framework
The Framework
It is a framework with processes, methods and tools, offered in a set of APIs licensed by Beeders, so that the market can consume Blockchain technology quickly and safely.

– Industry cases and connectors: After a few decades of Internet use and maturity, Blockchain has emerged to leverage the use of the network, relationships between companies, businesses and people. There are no limits to the application of this technology, it appears as viable from the registration of a birth of a child to multilateral agreements between countries. Blockchain applies from the generation and use of wealth, with the criptocurrencies, to the reduction of bureaucracy, to costs and waste in general through its ability to be in fact a distributed, reliable and unchanging technology.
– Smart contracts: Another great advantage of Blockchain technology is the use of rich applications that have information that is sensitive to its audience, promotes transparency, independence of technology platform, is distributed and decentralized. In this way the Smart Contracts arise to be able to make real world needs and their digital transformation possible.
– Secure identity:With Beeders software components your application can have the benefit of providing Secure Identity to users and their service partners. You can still choose which Blockchain to use, a public or a permissioned.
– Decentralized Transactions:Have the freedom, securely, to conduct transactions in a decentralized, unmediated and economically viable way.
– Tokens & Cryptocurrencies:You can create, distribute, permute or exchange monetary amounts, whether in exchanges, payments or electronic wallets. Tokens and cryptocoins allow instant entry into this new financial mode.
---

– Beeders Application Accelerators: Accelerated delivery to Blockchain of applications such as: Financial services, payment methods, loyalty programs, e-commerce, auctions, accounting services, fiscal integration, payroll, recruitment and selection, supply chain, transportation and logistics among several others.
– Beeders API Services:
– API – Interface with almost transactions functions on Blockchain with any cryptocurrency ready to be integrated with any system.
– Create and Distribute Ethereum ERC-20 Tokens, WebSites and Apps Front-End to register users and sells Tokens by Fiat transfers, credit card or any cryptocurrency.
– Exchange for buy, sell orders and trade business models like as: Binance, GDAX, Poloniex etc
– AI bots analysing and suggesting the best moment to send a transaction to optimize the miner fee.
– Beeders OS Blockchain Serverless: OS is the Operating System that works on Blockchain's independent layer and is transparent to its applications. It can be provisioned by scaling your infrastructure or server-independent, that is, the application controls the required provisioning at that time.
---
Beeders Tech

Technical and practical examples of the Framework use, architecture, API's, codes and other tools applied to crypto universe:
Blockchains
Cryptocurrencies, Altcoins, Stablecoins
Consensus mechanisms: Proof-of-authority, Proof-of-space, Proof-of-stake, Proof-of-work
Smart Contracts
Distributed Ledger
Hashgraph
Counterparty
Examples using the API through the languages:
Node JS
C/C++
Java
C#
Python
cURL
---
Start today the adoption of Blockchain technology in your applications.
Get in touch and get to know our integration framework.

– Accept Cryptos and Tokens Payments.
– Work with Smart Contracts.
– Buy, Trade and Hold Cryptocurrencies.
Get started integrate your software today
Contact us to know more about our blockchain platforms.